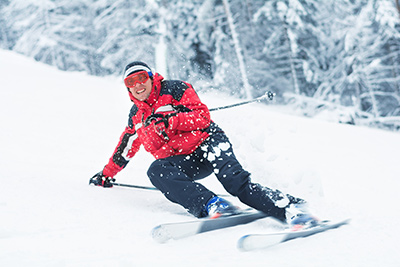 Skiing is a safe and fun endeavor that the whole family can enjoy. Nobody wants to get injured while skiing and taking a few precautions can mean the difference between a great day on the slopes and the end of your ski season. Follow the tips below, in addition to the recommendations of the National Ski Patrol to stay safe.
Wear Proper Dress
Proper dress is critical for having a day on the mountain that is both enjoyable and safe. A day that may look sunny can turn cold and cloudy quickly. For this reason it is always useful be prepared for both weather extremes. Sunscreen, sunglasses and lip balm are a must if the sun is shining. Conversely, if it is windy, cold and cloudy, then good gloves, a hat, goggles and a neck gaiter can keep you more comfortable and decrease the risk of frostbite. Avoid wearing cotton as it absorbs moisture and acts as a poor insulator when wet. Instead chose layers that wick moisture from your body.
Utilize Correct Equipment
Using the correct equipment is absolutely essential for a safe ski day. Many of the injuries I see are as a result of using equipment incorrectly or incorrect equipment. Always make sure that ski bindings are set appropriately for your ski level as well as your size. This is especially true if you are borrowing skis or other equipment from a friend. When in doubt have a professional look at your skis and boots to make sure they are appropriately sized and set for your skill level.
Wear a Helmet
It should go without saying that a helmet may save your life in the event of an accident while skiing. Always make sure that the helmet you are wearing fits appropriately, is buckled up and is designed for skiing. According to the National Ski Areas Association, in the 2017/2018 season at US Ski Resorts, 84% of skiers and snowboarders wore helmets. 100% of children under the age of 9 wore helmets. Helmets, in addition to functioning as a safety item, also keep your head surprisingly warm.
Observe Trail Markings
Understand what different signage means out on the mountain. Some trails may be closed, while others have hazards that can lead to accident. Importantly, know that where you are skiing is within your skill level. Skiing above of ones level is a common source of injuries and accident.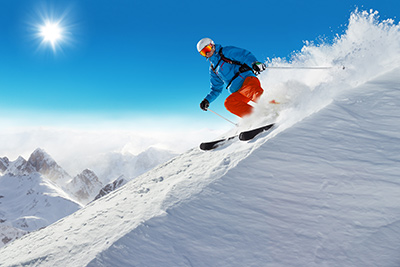 Understand the Responsibility Code of the National Ski Areas Association
Always stay in control, and be able to stop or avoid other people or objects.
People ahead of you have the right of way. It is your responsibility to avoid them.
You must not stop where you obstruct a trail, or are not visible from above.
Whenever starting downhill or merging into a trail, look uphill and yield to others.
Always use devices to help prevent runaway equipment.
Observe all posted signs and warnings. Keep off closed trails and out of closed areas.
Prior to using any lift, you must have the knowledge and ability to load, ride and unload safely